Sharing research with local communities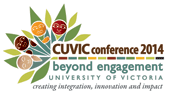 At the end of May, I gave a paper at a conference hosted by the University of Victoria on Vancouver Island, called 'Beyond Engagement: Creating Integration, Innovation and Impact'. Like our Southampton Knowledge Exchange Conference last summer, it was a varied and interesting conference, tackling how universities can better focus our research to include local communities who might benefit from it or want to be involved to a greater degree.
My own paper 'City Witness: Linking Medieval and Modern Swansea' detailed how our project has worked with many different groups in Swansea, including the city council and archives, GGAT, the Cyrenian photography group, and of course Swansea Museum. Although it was the only paper at the conference on medieval history(!), it was well received and served as a useful case study of the ways in which research projects can get involved with local institutions and government. It also fitted in well with the conference's stream focussing on community mapping, which I found extremely useful in terms of giving me ideas about methods of getting the public involved, and ways of using and disseminating that information. I was particularly intrigued by the work being done by UVIC lecturers Maeve Lydon and Ken Josephson, and Wendy Brawer, founder of 'Green Maps'. I look forward to including some of ideas inspired by their work in future research projects.
It was also of great interest to hear how others, from as nearby as Abergavenny and Glasgow to Universities across Canada and the States were approaching and beginning to overcome the divide between university research for its own sake, and research which will be of use and potential benefit to wider communities. I'm very much looking forward to sharing our own findings on medieval Swansea with people tomorrow night at the project launch, and with members of the public and the workshops and tours on Saturday. Hope to see you there!
Şħȧřḗ ǿƞ Ŧẇīŧŧḗř
Şħȧřḗ ǿƞ Ƒȧƈḗƀǿǿķ