Where was Gibbet Hill?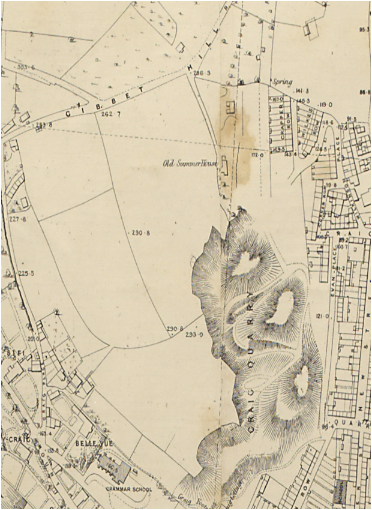 We've been looking closely at the William 'Cragh' text, as well as other archaeological and documentary sources, to try to establish where the gallows were located in medieval Swansea. In the 'Cragh' text, the priest Thomas Marshall tells us he watched the hanging from the top of the West Gate, and he reckoned the gallows were about two crossbow-shots away. Adam of Loughor also watched from a position on the city walls, and tells us he saw William Cragh hanging for about the length of time it would take him to walk one mile on a flat road. Based on our research so far, North Hill, just beyond today's city centre, looks a likely location.
Do you live on North Hill Road in Swansea? The historic maps we've analysed give some clues about the history of this area. In this 1855 Board of Health Map you'll see that today's 'North Hill Road' used to be called 'Gibbet Hill Road'...
Şħȧřḗ ǿƞ Ŧẇīŧŧḗř
Şħȧřḗ ǿƞ Ƒȧƈḗƀǿǿķ